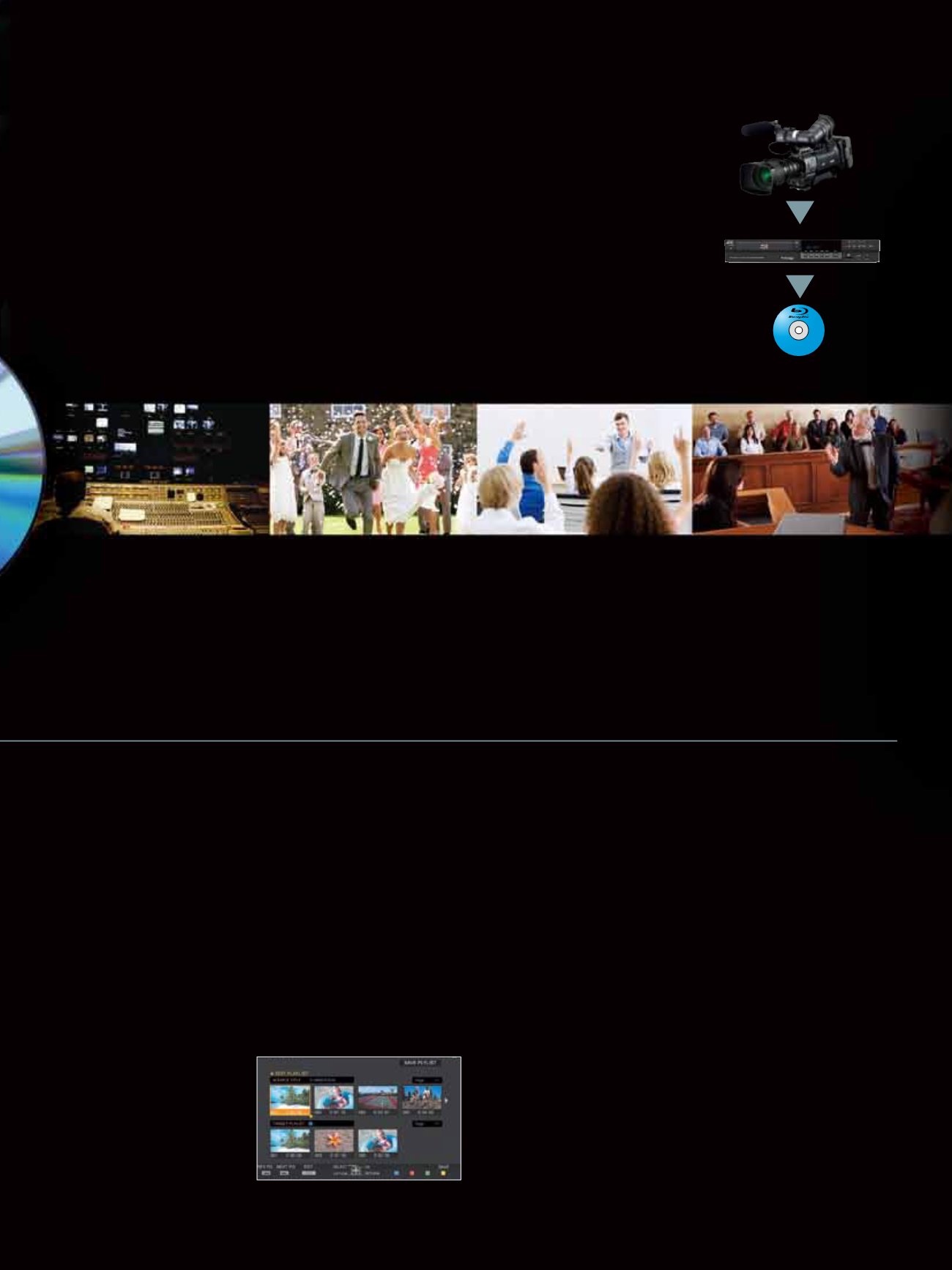 Convenient editing functions including Playlist and
It is possible to apply Playlist
and Cut Edits to titles stored on
the internal hard drive, so you
can create edited videos that
meet your specific needs. You
can also create Auto Repeat
discs that automatically resume
playback from the start for
unattended demonstrations.
Dual BD formats supported
BDMV and BDAV modes are selectable for recording on Blu-ray. By
contrast, BDAV mode discs enable new footage to be added later, as
well as editing. Since Full HD images can be stored in their original
MPEG2 format, they're ideal for backups.
Playlist Edit on-screen display
A versatile tool for any application
To allow playback on common Blu-ray/DVD players, the SR-HD1700/HD1350 supports the same
recording formats as store-bought movies, namely BDMV and DVD-Video. Just connect a camcorder,
switcher, PC, VTR or other source to the SR-HD1700/HD1350 and use the direct recording mode to
import the footage, and you will have a disc that is ready for playback the moment recording is finished.
This convenient versatility will make it an essential deck in a variety of situations, including the broad-
casting and post production industry, as well as for education, events, and the public sector.
Studios & Post Production
Use it to check aired content, rehearsals,
and material in production. Handy for
adding subtitles to footage.
Lectures and seminars can be
provided to students. Possible to
record to hard drive for editing before
burning discs for distribution.
Footage from concerts, sporting
events and weddings can be burned
to disc an distributed to those
Possible to record proceedings at
governmental and judicial facilities
to keep records and distribute to
members. A secondary source to
Ready to excel in a variety of environments
Connectable even to equipment not supporting HDCP
Copyright free material (such as self-recorded camcorder footage) can
be output through HDMI, with user settings to decide whether to apply
Without having to use a PC, it is possible to dub from HD video
to Blu-ray Disc, as well as down-convert and dub to a DVD disc.
Blu-ray Discs burned in BDMV mode can be played on other decks
and allow inclusion of menus, making them ideal for distribution
and demo disc applications.
Create Repeat Playback discs
Mode Lock and Disc Tray Lock functions
Last Function Memory and Resume functions