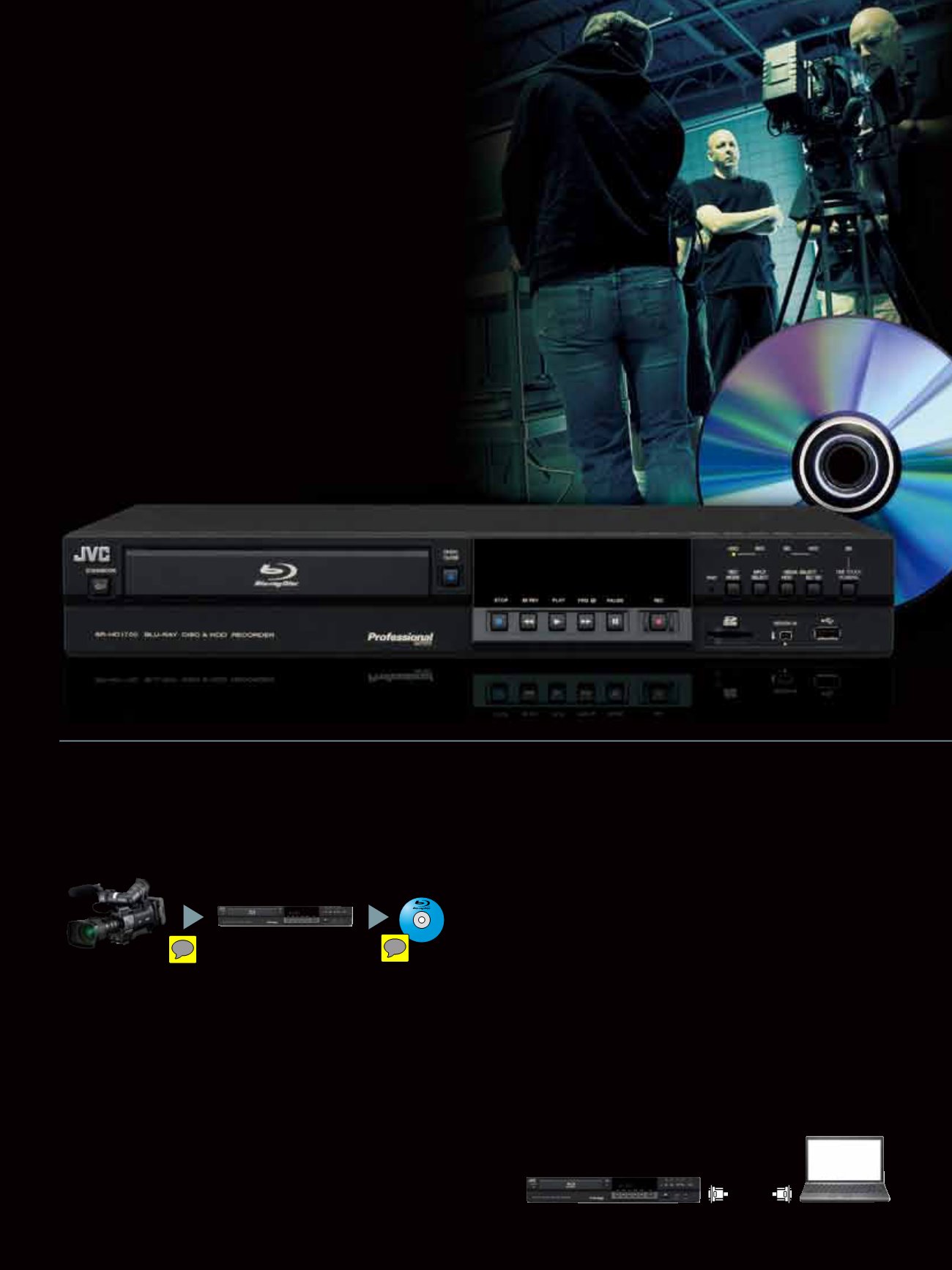 Continuous long-time recording capability
It is possible to record continuously up to 24 hours on Blu-ray or 8
hours on DVD, which can be helpful in applications such as facility
surveillance, monitoring, and checking on-air content at a broadcast
station. When continuous recording time is reached, the recorder
stops once, then resumes recording until the media becomes full.
Supports import of MOV and MXF files
The deck supports import of MOV and MXF* files from JVC ProHD
cameras (GY-HM890/HM850, GY-HM600, etc.) recorded in HQ mode
(35Mbps) or SP mode (25Mbps/19Mbps). You can perform simple
editing at the deck's HDD with no need for a computer, and output the
result to a Blu-ray Disc.
LAN Transfer Capability (SR-HD1700 only)
Video files edited on a PC using NLE can be uploaded to the
SR-HD1700 for creation of a Blu-ray Disc.*
It is possible to record BDMV, BDAV, DVD-VR and DVD-Video discs
directly from a variety of sources in addition to dubbing from the
deck's internal high-capacity HDD.
Compatibility and Simplicity
*1 Files become separated when recording is stopped and resumed.
*2 Depending on the standard of the Blu-ray Disc being used, it may not be possible to record until completely full.
*MXF file import only on the SR-HD1700.
Record BDMV, BDAV, DVD-VR and DVD-Video
discs directly from a variety of sources, or from
the internal high-capacity hard disk drive,
and ensure compatibility with the widest
RS-232C or LAN external control (SR-HD1700 only)
For usage in specialized PC controlled systems, the deck is equipped
with an RS-232C terminal that enables external control via PC. Besides
enabling control of recording and playback of various media, a vast
array of control protocols provide Title/Chapter direct selection and
other functions essential for content export. The ability to send remote
control codes also helps to simplify operations. When sending RS-232C
signals from a PC to the deck, it is possible to bundle commands in a
packet and send it via LAN to the deck, where the packet commands
are extracted and restored to RS-232C commands.